Pure Drinking Water – On Tap
At Liam Chawke Electrical & Water Pumps in Rathkeale, we provide water treatment solutions for homes, hotels, restaurants, schools, dairy farms, golf clubs and factories throughout Limerick, Cork and Kerry. Our wide range of water treatment technologies and extended know-how in all water-related issues guarantees you a cost-efficient solution meeting your water quality requirements.
Water Treatment Solutions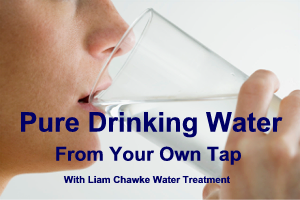 Over the years, we have developed great experience providing electrical, water pumping and water treatment solutions to private homes, farms and commercial customers in West Limerick and beyond. As a result we have put together the most efficient and economical solutions in water filters, water softeners, ultraviolet disinfection and more.
This means we can provide a number of standard, proven technologies in removing iron and manganese from drinking water. The selection of the appropriate method is based on raw water analysis and our own track record. Special filters are also available for removing the newer contaminants like pharmaceuticals and microplastics from drinking water. With our background in water treatment, we will select the appropriate solution for your particular needs.
UV Sterilisers or Ultraviolet Filtration has gained recognition as a beneficial technique in disinfection systems for drinking water applications. As an alternative or supplement to traditional chemical disinfectants, UV or ultraviolet disinfection systems offer a number of operating advantages. An ultraviolet disinfection system is safe and easy to operate and is ideal in dairy farm milking parlours and similar applications. Ultraviolet disinfection system design has a small footprint so it can readily be adapted to fit into an existing treatment facility. In addition, the use of ultraviolet does not inject any taste or odor into the processed water, nor does it produce any undesirable by-products.
The first step to determine the type of filtration, disinfection, pH correction, or water softening solution you need is to test your water supply, particularly if you are using a local or private well water source. We can arrange Water testing Limerick or other areas in the Mid-west. We will provide details of cost when we know the type of water test required. A simple test to determine the water hardness or pH level is less costly than a full test. A comprehensive water quality test would check for organisms such as E.coli, clostridia, cryptosporidium, various coli-forms, heavy metals and other contaminants. As part of the service, the test will show if there is possible contamination of well water due to increased levels of faecal coliforms – a common problem in private water wells in rural Ireland.
Complete the form below or contact us at 069-64318 for details and to request a water test.
Water Testing Service