Round Cleaner 420 (Stainless Steel) 420 mm
Features:
Nozzle system 055 as standard
Stainless steel
min. 10 l/min
max. 19 l/min
max. 250 bar (25 MPa) max. 60 °C
Description
Kranzle Floor Cleaner Accessories
Effective cleaning without splashing
The Kranzle Floor Cleaner is among the many useful accessories available for use with Kranzle high-pressure power washers with a water output of at least 10 litres/min. These heavy duty industrial Kranzle Round Cleaners are made out of stainless steel with have high quality brass swivel fittings and large rubber wheels.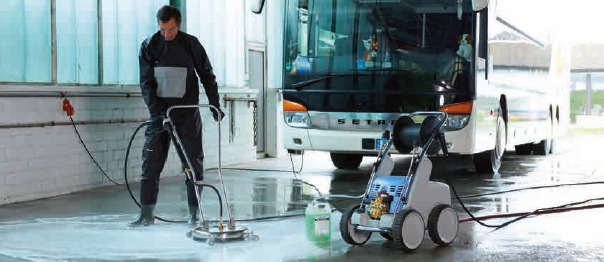 Built tough and robust for commercial usage for professional cleaning of car parks, factory floors, block paving, patio's, drive ways, and more.
The size of the jet is very small so that all of the pressure created in the pump is concentrated over a very small area (the pounds of force per square inch are effectively increased, effectively creating more "PSI").
The reduced cleaning area would normally take a longer time to clean. Spinning jets cover a larger area than would be normally possible in a short amount of time and also adds a powerful 'ripping' action providing a deep clean.
Product Features:
Convenient, space-saving, compact design
Minimum splash back and maximum power.
Almost double the impact pressure of a standard lance
Withstands voltage fluctuations
Round Cleaners are a lot like using the powerful Dirtkiller lance though the splash back is contained by the Round Cleaner. You find you spend far less time going around cleaning up the surrounding areas afterwards and keep yourself cleaner too.
Kranzle Round Cleaners are designed for ease of use and are very easy to manipulate. All Original Kranzle trigger guns slot perfectly into the frame of the larger Round Cleaners.
This is a well made accessory, designed for many years of professional use. In-expensive o-rings and any parts that you may accidentally damage are available to replace. An excellent value for money attachment, well designed and very durable.
Round Cleaner 420 models work best with pressure washers operating between 11-15 ltrs/min and 140 Bar pressure. (250 Bar max.) 
(Other nozzles may be available by request to best suit your appliance)
Additional information
| | |
| --- | --- |
| Weight | 23 kg |
| Dimensions | 440 × 200 × 330 mm |